Join a creative community where your designs go live and are bought on top Indian e-commerce sites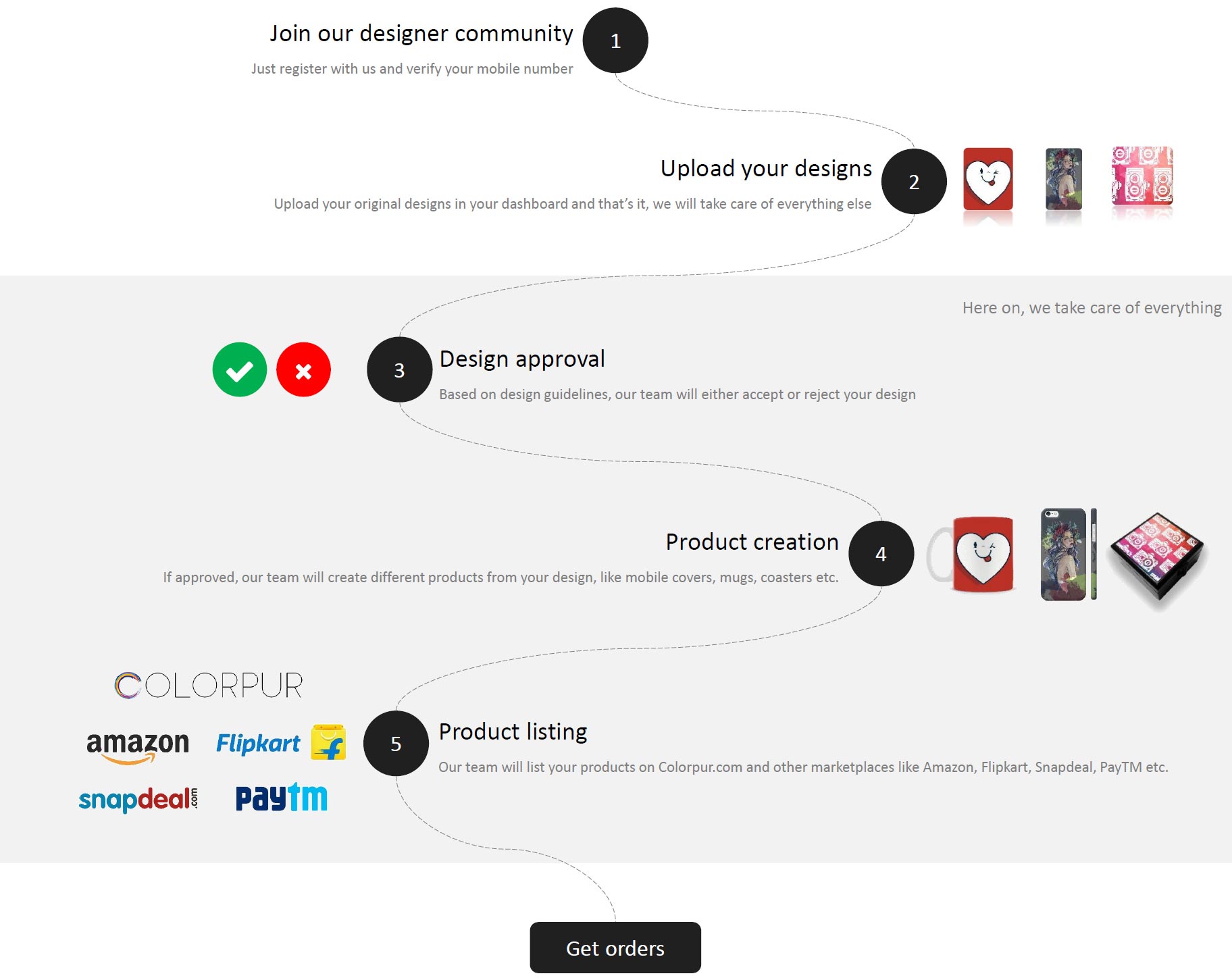 What kind of designs I can upload?
Anything which looks good and adhere to our design guidelines.
Are there any design guidelines?
Yes, click here to see our design guidelines.
Do I continue to own the rights for the designs I upload?
Yes, all your designs stays with you forever. You have full right to take them down from colorpur.com or share on other websites whenever you want.
How are the titles for my designs decided?
While uploading your design, you are requested to give your design a title and in most cases we accept it as it is. But, in some cases we might change the title keeping in mind certain factors like:
Duplicity of title
Coherence with design
Search engine optimization
What if someone copies my design?
We won't give the right to anyone to copy your design, but still, if someone copy your design, you have full right to take legal actions against the person/ company.
In how much time will the products bearing my design go live on eCommerce site?
If your design is approved, it takes around 5-7 working days to create products from your design and list them on Colorpur.com and Amazon. 
How does Colorpur ensure the products bearing my designs are sold?
Colorpur is highly active on all social media channels, and we have many people visiting our website on a daily basis. In addition to this, we take your designs to all leading marketplaces in India and by that the reach of your designs goes into millions.
What if the products having my designs don't get a sale?
We would just like to quote Mahabharata here "karm karo phal ki chinta mat karo". Well you keep making cool and quirky designs and we will take them to millions. You might not get sale on all your designs, but some designs will definitely get you something.
How do I get paid?
Every month we calculate the total earnings and returns/cancellations of the previous month and transfer your earnings to your bank account via NEFT/IMPS.
How many types of products does Colorpur have?
Right now we are selling mobile covers, coasters, mugs, wooden serving trays, accessory boxes, tissue boxes etc. For more details, checkout www.colorpur.com
What If I no longer want to have my designs on Colorpur?
You are free to take down anything and everything, whenever you want. 
1. Your design should be an ORIGINAL artwork created by you.
2. Refrain from all illegal practices, including but not limited to:
Copying designs of other designers
Using already existing pictures from internet
Using trademark, name, logo, branding of other brands
Pornographic content
In case of any violation:
Colorpur reserves full right to ban a designer from participating in Colorpur's designer community.
a designer might face legal actions against him/her and Colorpur will not be responsible for any such malpractices by designer.
3. We accept only JPEG & PNG files in their original high resolution format. However, we recommend working from a loss-less original (such as a TIFF or PSD file), and then saving the file as a highest-quality JPEG or PNG. This will keep any editing from degrading your files, but allow you to have quicker uploads. We never edit or change any files that you upload, so there is no degradation.
4. It is always advisable to upload your artwork at least 2000 pixels on either side & in 300 dpi for best quality output.
5. We suggest you to upload only high resolution artwork in 1:1, 2:3 or 3:2 aspect ratio.
6. Recommended resolutions: 2000x2000, 3000x2000 or 2000x3000. Higher the resolution, the better.
7. Color mode should always be RGB. If you work in CMYK, your artwork will produce different results.
8. It is not recommended to leave bleed / cropping area in your artwork.
We want to offer maximum commission to our designers for their original, unique, and awesome designs, but, we need to take care of lot of other expenses as well (like cost of product, packaging, shipping, returns, marketplace commissions, VAT etc.). Still, we believe, we offer one of the best in the industry.
Our commission structure is as follows:
Colorpur.com – 10% of net sales value
Amazon.in – 5% of net sales value
What is net sales value?
Value of the product at which it is sold after all discounts and promotions.
Why we give less commission for Amazon?
Amazon charges us around 15-20% commission for sales through its platform and hence we cannot offer same commission to designers as offered on sales through Colorpur.com